Health Alert: U.S. Consulate General Hong Kong and Macau (September 27, 2021)
Location: Macau
Event: On September 25, 2021, the government of Macau (GOM) declared a state of immediate prevention and introduced a community-wide COVID-19 Testing Program. Local authorities have mandated that all members of the public are required to obtain a nucleic acid COVID-19 test between September 25, 2021 and 15:00 on September 28, 2021. According to the GOM there are 52 testing stations set up around Macau operating 24 hours a day. Testing at these locations is free of charge, but please keep in mind that most require an appointment. During previous testing programs, there were reports that even those with appointments had to wait hours for their test to be completed. To avoid an overly long wait, please check Macau's booking system for approximate wait times for each facility. Information on testing sites and booking can be found on Macau's government webpage or on their prepared pdf.
The GOM also announced that many regular services in Macau are now suspended. Education institutions are suspending face to face classes or all classes until October 3, 2021. According to the government's press release, institutions will be in charge of notifying students and parents of specific arrangements. Ferry services between Macau and Shenzhen and Macau and Zhuhai's Wanzai Port have been suspended until further notice. To learn more about closures or cancellations of Macau services, please check back on the Macau government's website.
If you are planning to depart Macau, please be aware that all outbound travelers must test negative for COVID-19 within 48 hours of their departure. Those that were planning to travel to Hong Kong should be aware that Hong Kong has suspended the quarantine exemption for people entering from Macau under the Return2hk or Come2hk Scheme. As of September 25, 2021, travelers from Macau will be subject to 14-day compulsory quarantine at home if they have not been fully vaccinated; and to 7-day compulsory quarantine at home for those who have been fully vaccinated. For more information, please see the Hong Kong government's press release.
We urge U.S. citizens who receive a mandatory quarantine notification or test positive for COVID-19 to send us an email at [email protected] with their name, date of birth, passport number, and contact information. The consulate can track your case throughout quarantine or hospitalization, raise any emergency health or safety concerns you have with local authorities, and provide information regarding your case to family members in Macau or the United States if you provide us authorization to do so. We always have someone monitoring our mailbox ([email protected]), and with the exception of weekends and holidays, we respond within the same day. If you need to contact us after hours for an emergency, you can always reach a consulate official at +852 2523-9011.
Assistance:
---
Macao to conduct 

Second Mass Nucleic Acid Testing Programme (Sept 25 2021)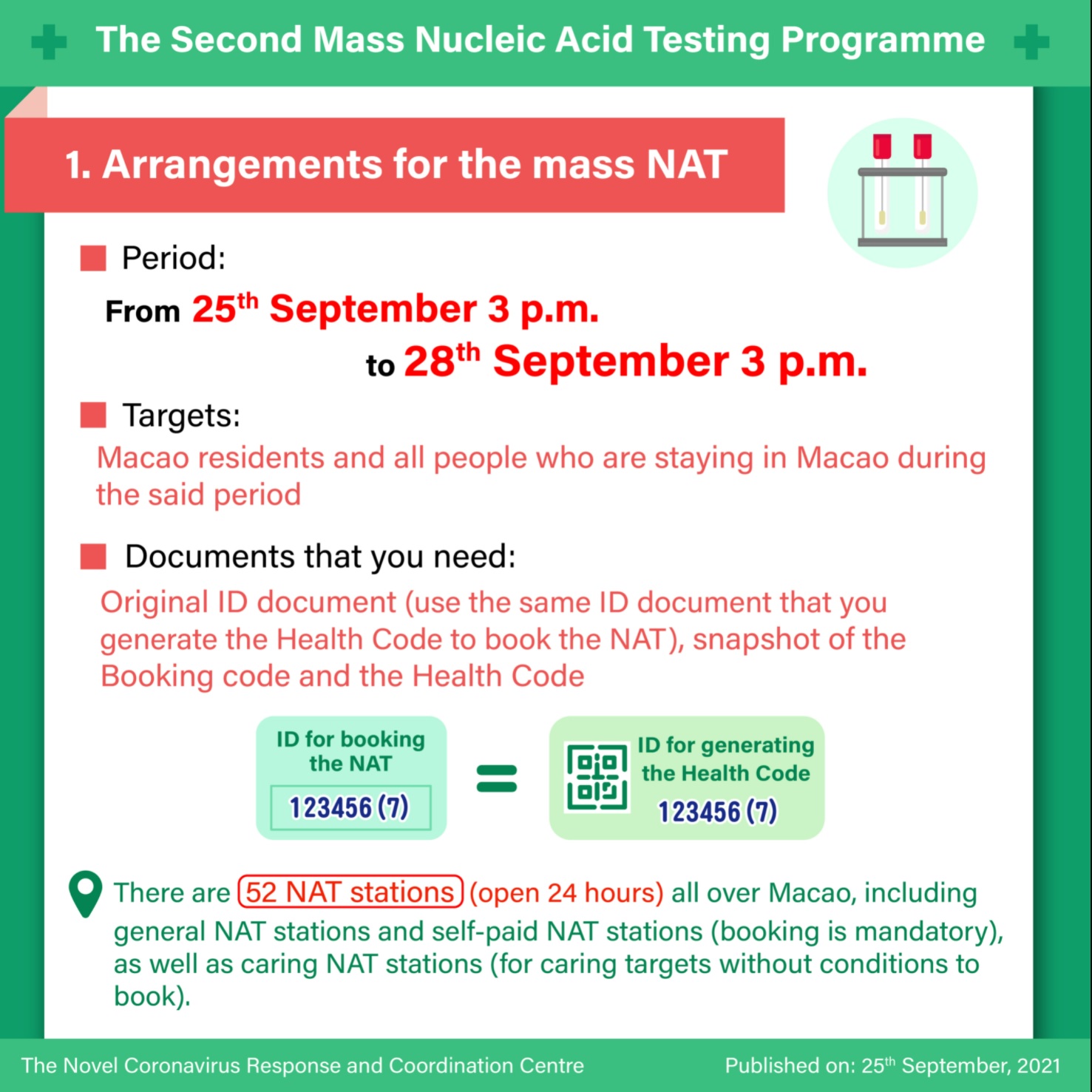 More information about logistics of the second NAT, please visit : https://www.gcs.gov.mo/detail/en/U21IYkNn2T?9
All outbound travellers must hold a proof of negative nucleic acid test with 48 hours 
The Novel Coronavirus Response and Coordination Centre announces that, with effect from 00:00 of 25 September, all travellers departing Macao must hold a proof of negative nucleic acid test within 48 hours. Members of the public are urged not to leave the territory unless necessary.
Besides, starting from 00:00 of 25 September, all nucleic acid test stations will operate around the clock. Meanwhile, "Vui Ieng" Service Centre of Caritas Macau entrusted by the Social Welfare Bureau, which is located in Rua Leste da Ilha Verde no. 34, Edificio do Bairro da Ilha Verde E1, will come into operation. In response to the epidemic situation, the service centre will provide temporary accommodation service to people in need.
---
Macao launches community-wide nucleic acid testing from 9am on 4 August
The Novel Coronavirus Response and Coordination Centre announced a community-wide nucleic acid test programme for detection of COVID-19 will be launched from 9am on Wednesday (4 August).
A total of 41 testing stations set up across Macao will be running 24 hours a day, and it is expected to take three days to complete testing of all members of the Macao public.
Of the 41 testing stations, 27 are on Macao peninsula, and the other 14 are located either in Taipa or Coloane. Further arrangements will be announced later.
The Centre has immediately implemented district- and risk-specific epidemic prevention measures in view of four new cases in Macao of COVID-19 infection confirmed on Tuesday (3 August).
Separate from the community-wide nucleic acid test programme, there are five testing stations – at Pac On Ferry Terminal, the Macau Forum building, Kiang Wu Hospital, the Workers Stadium run by the Macau Federation of Trade Unions, and the University Hospital of the Macau University of Science and Technology (MUST) – now providing round-the-clock service. Prior appointments are not required for using the services there. Generally, a test result should be available within four to six hours of a sample being taken.
41 testing stations:  https://www.gcs.gov.mo/detail/pt/N21HCpaCol?3
---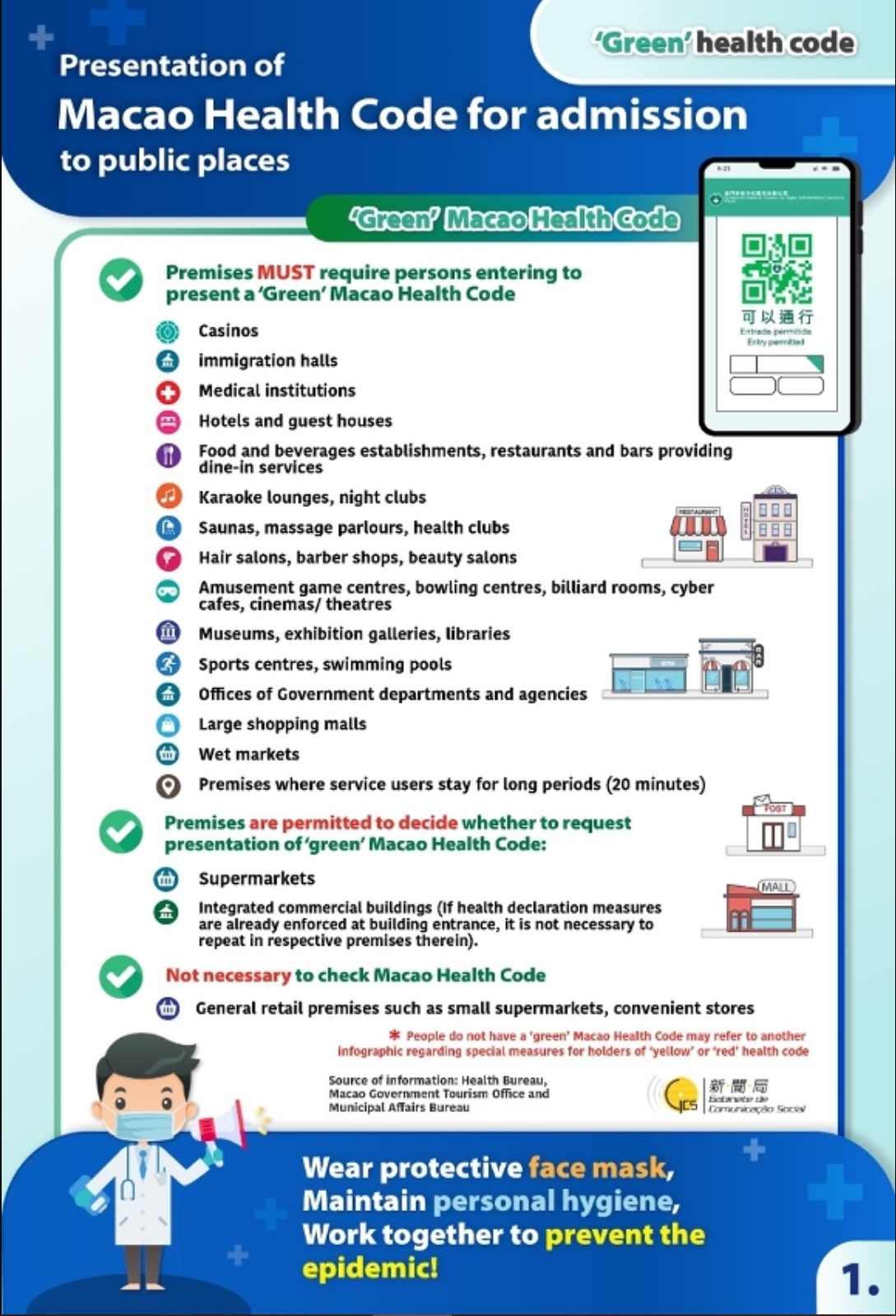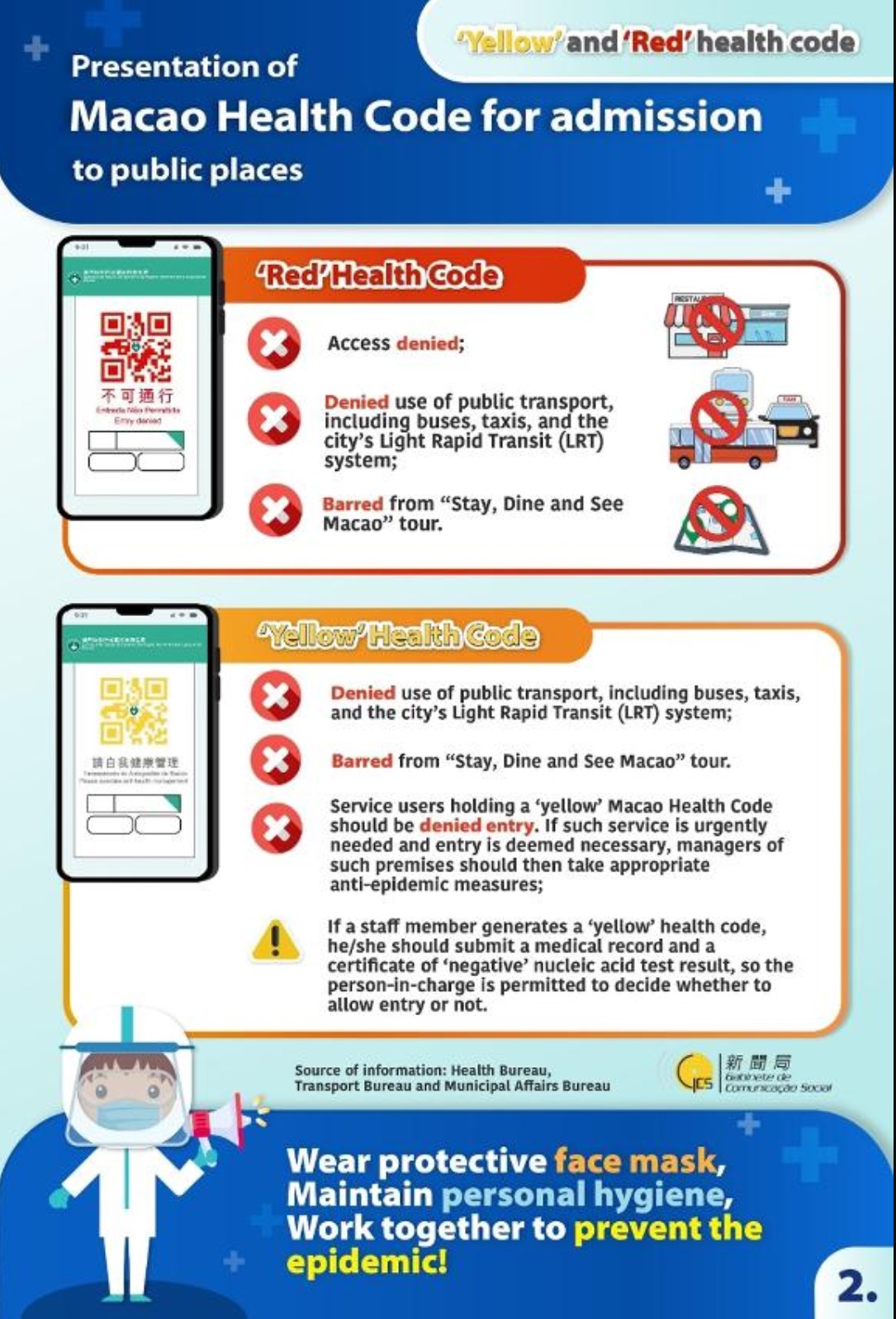 ---
Novel Coronavirus Response and Coordination Centre announces that from 15:30 of 3 August 2021, all outbound travelers must hold a proof of negative nucleic acid test within 24 hours.
The public are urged
Not to leave Macao if possible;
To take personal precautionary measures;
To avoid visiting crowded places!
For latest updates, please visit Government Information Bureau website:
https://www.gcs.gov.mo/detail/en/N21HC4RsAt?4&topic=Novel_Coronavirus