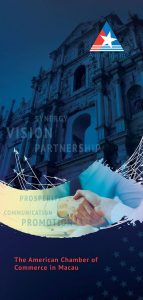 AmCham Macau, a not-for-profit organization, was established in 2007 to facilitate and promote American business interests and best American business practices in Macau.
Given the enormous growth of U.S. corporate investment in Macau, AmCham Macau is fully engaged with Macau's development and positioned to provide insights and business connectivity that is unmatched by any other international chamber.
Our networks and relationships with local business leaders, public policy decision-makers and the U.S. Consulate General, enables AmCham Macau to provide an exclusive platform for our local and overseas members, with the aim of promoting the development of trade, commerce and investment between the U.S. and Macau.
AmCham Macau is a member of the United States Chamber of Commerce and the Asia-Pacific Council of American Chambers of Commerce.