AmCham Corner Opening at 12:50 pm at 25th MIF
October 22, 2020 @ 12:00 pm

-

October 24, 2020 @ 6:00 pm

25th Macao International Trade and Investment Fair
Date & Time:

October 22, Thursday  (Trade Visitors)

12:00 – 19:00

October 23, Friday  (Open to Public)

10:00 – 19:00

October 24, Saturday (Open to Public)

10:00 – 18:00

Venue: 

The Venetian Macao-Resort-Hotel




 

Theme: 




The Greater Bay Area – Macau Tourism Focus



Opening Ceremony of the AmCham Corner will be held on October 22, 2020 at 12:50 pm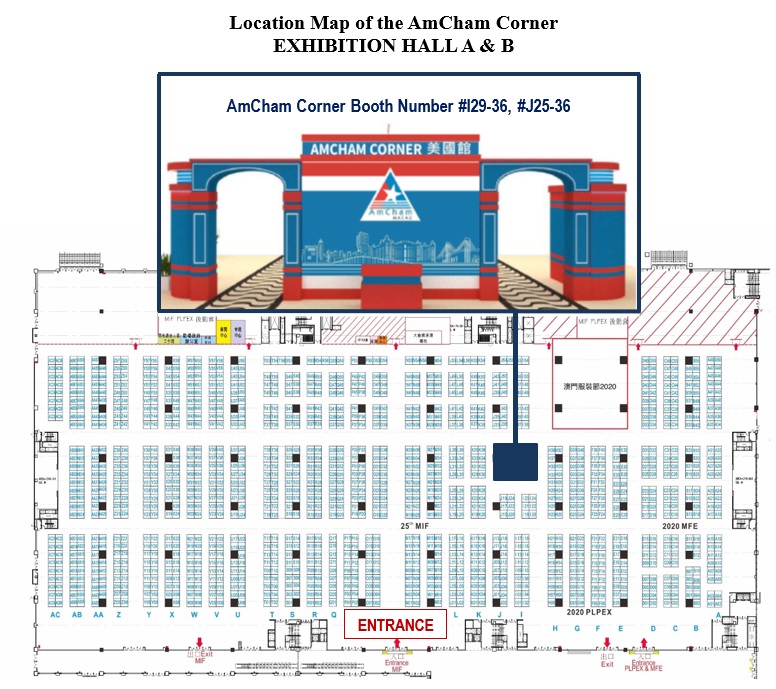 Exhibitors at The AmCham Corner      [EVENT GALLERY]
The American Chamber of Commerce in Macau
AmCham Macau, a not-for-profit organization, was established in 2007 to facilitate and promote American business interests and best American business practices in Macau.

Given the enormous growth of U.S. corporate investment in Macau, AmCham Macau is fully engaged with Macau's development and positioned to provide insights and business connectivity that is unmatched by any other international chamber.

Our networks and relationships with local business leaders, public policy decision-makers and the U.S. Consulate General, enables AmCham Macau to provide an exclusive platform for our local and overseas members, with the aim of promoting the development of trade, commerce and investment between the U.S. and Macau.
AmCham Macau is a member of the United States Chamber of Commerce and the Asia-Pacific Council of American Chambers of Commerce.
---
Galaxy Entertainment Group
Galaxy Entertainment Group is one of the world's leading resorts, hospitality and gaming companies. The Group is listed on the Hong Kong Stock Exchange and is a constituent stock of the Hang Seng Index. GEG operates three flagship destinations in Macau: Galaxy Macau™, Broadway Macau™ and StarWorld Hotel.
銀河娛樂集團是全球首屈一指的度假城、酒店及博彩企業。集團於香港聯合交易所上市,並為恒生指數成份股。目前主要在澳門經營三個旗艦項目,包括「澳門銀河™」、「澳門百老匯™」以及澳門星際酒店。
---
Melco Resorts & Entertainment
Melco Resorts & Entertainment is a developer, owner and operator of integrated resort facilities in Asia and Europe with an expanding international presence. In Macau, its businesses include the flagship integrated resort City of Dreams, home to the world's largest water-based show The House of Dancing Water and the ultra-luxury hotel Morpheus designed by the late Dame Zaha Hadid; the cinematically-themed entertainment resort Studio City; the Forbes Travel Guide 5-star Altira Macau; and Mocha Clubs, comprising Macau's largest non-casino based operations of electronic gaming machines. A Philippine subsidiary of the Company operates and manages City of Dreams Manila, an integrated entertainment resort in the Philippines. The Company is developing City of Dreams Mediterranean in the Republic of Cyprus and expected to be the largest premier integrated resort in Europe, and currently operating a temporary casino and is licensed to operate four satellite casinos.
新濠博亞娛樂為一家發展商及資產擁有者,在亞洲及歐洲經營綜合度假村業務,並不斷擴展其國際版圖。其業務包括旗艦綜合娛樂度假村新濠天地,當中擁有全球最大型的水上匯演《水舞間》及由已故建築師札哈·哈蒂女爵士所設計、極致奢華的摩珀斯酒店;以電影為主題的綜合度假村新濠影滙、福布斯五星級酒店澳門新濠鋒及澳門最大的非賭場博彩機業務摩卡娛樂場。菲律賓方面,新濠的菲律賓附屬公司正於當地經營及管理綜合度假村新濠天地(馬尼拉)。歐洲方面,本公司目前正在塞浦路斯共和國發展綜合度假村項目City of Dreams Mediterranean,該項目預期將成為歐洲最大型頂級綜合度假村。同時,本公司目前亦在當地經營一間臨時娛樂場及獲授權經營四間衛星娛樂場。
---
MGM China Holdings Limited
MGM China Holdings Limited (MGM) is a leading developer, owner and operator of integrated resorts in the Greater China region. MGM owns and operates MGM MACAU on the Macau Peninsula and MGM COTAI in Cotai. MGM MACAU is a Forbes Five-Star luxury integrated resort inspired by the arts with every element of the resort infused with creativity and style. Opened in 2018, MGM COTAI offers approximately 1,400 hotel rooms and suites, meeting space, high end spa, retail offerings, food and beverage outlets as well as Asia's first dynamic theater.
美高梅中國控股有限公司簡稱美高梅,為大中華地區領先的綜合度假酒店發展商、擁有者和運營商。美高梅擁有及經營兩家綜合度假酒店,位於澳門半島的澳門美高梅及位於路氹城的美獅美高梅。澳門美高梅是《福布斯旅遊指南》五星評級之綜合度假酒店,是一件充滿創意和風格的藝術傑作。美獅美高梅於2018年開業,設有近1,400間客房及套房、偌大的會議空間、頂級水療設施、零售商店、餐飲配套,以及亞洲首個動感劇院,為賓客提供極致豪華體驗。
---
Sands China Ltd.
Sands China Ltd. (Sands China or the Company) is incorporated in the Cayman Islands with limited liability and is listed on The Stock Exchange of Hong Kong Limited (HKEx: 1928). Sands China is the largest operator of integrated resorts in Macao. The Company's integrated resorts on the Cotai Strip comprise The Venetian® Macao, The Plaza® Macao, Sands® Cotai Central and The Parisian Macao – with Sands Cotai Central to be reintroduced as The Londoner Macao. The Company also owns and operates Sands® Macao on the Macao peninsula. The Company's portfolio features a diversified mix of leisure and business attractions and transportation operations, including large meeting and convention facilities; a wide range of restaurants; shopping malls; world-class entertainment at the Cotai Arena, The Venetian Theatre, The Parisian Theatre, the Sands Cotai Theatre and the Sands Theatre; and a high-speed Cotai Water Jet ferry service between Hong Kong and Macao. The Company's Cotai Strip portfolio has the goal of contributing to Macao's transformation into a world centre of tourism and leisure. Sands China is a subsidiary of global resort developer Las Vegas Sands Corp. (NYSE: LVS).
For more information, please visit www.sandschinaltd.com.
金沙中國有限公司(香港聯交所:1928,「金沙中國」或「公司」)是一所於開曼群島註冊成立的有限公司及在香港聯合交易所有限公司上市的公司。金沙中國是澳門最大的綜合度假村經營商,於路氹金光大道上設有澳門威尼斯人®、澳門百利宮®、即將改建為澳門倫敦人的金沙城中心,以及澳門巴黎人等物業項目,同時擁有及經營位於澳門半島的澳門金沙酒店。公司旗下的各綜合度假村集合多樣化的娛樂消閒、商務設施及客運業務,包括大型會議及展覽場地、各式餐廳食肆、購物中心、於金光綜藝館、威尼斯人劇場、巴黎人劇場、金沙城中心劇場及金沙劇場舉行的世界級娛樂表演,以及來往港澳的金光飛航高速渡輪服務。公司在路氹金光大道的各物業發展項目,堅定並持續地為建設澳門成為世界旅遊休閒中心貢獻力量。金沙中國是全球度假村發展商拉斯維加斯金沙集團股份有限公司(紐約證券交易所:LVS)的附屬公司。
如欲索取更多相關資訊,請瀏覽網頁www.sandschinaltd.com。
---
Wynn Resorts (Macau) S.A.
Holding the distinct honor of being the only Resort in the world with 8 Forbes Five-Star Awards, Wynn Macau features two luxurious towers – Wynn and Encore – which boast more than 1,000 exquisitely furnished rooms and suites, Michelin-starred restaurants, two lavish spas, an outdoor swimming pool with luscious gardens, the most fashionable names in luxury retail and exciting entertainment.
Wynn Palace Cotai is the first and only resort in the world with more than one thousand rooms to receive Forbes Travel Guide Five Star Awards. The resort features 1,706 rooms, suites and villas, award-winning restaurants, the largest spa in Macau, world-renowned retail brands at Wynn Esplanade and versatile meeting facilities. Wynn Palace offers entertainment experiences including SkyCab ride above the Performance Lake , the large, colorful floral displays and an collection of rare artwork.
永利澳門及其萬利酒店榮獲八項《福布斯旅游指南》五星大獎,提供超過1000間華麗的客房、米芝蓮星級餐廳、水療中心,戶外花園泳池、尊尚購物體驗及獨一無二的娛樂項目。
永利皇宮為全球首間擁逾千客房,而獲《福布斯旅遊指南》頒授五星美譽的渡假村,設有1,706間客房、獲獎餐廳、全澳門最大的水療中心、名店街並提供娛樂體驗包括觀光纜車、表演湖、巨型花卉雕塑以及藝術瑰寶珍藏。